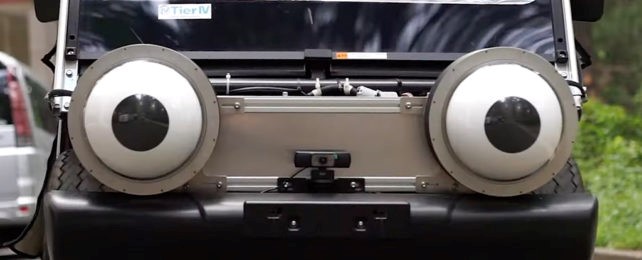 7
Cars with pair of eyes to make future roads safer for pedestrians
In one of the more unusual experiments, researchers attached a large pair of cartoonish googly eyes to the front of a small, self-driving vehicle – and it turns out that this kind of anthropomorphic tweak could actually improve pedestrian safety.
If the car is not looking at the pedestrian, this implies that the car does not recognize the pedestrian. Thus, pedestrians can judge that they should not cross the street, thereby avoiding potential traffic accidents.
For the purposes of this study the researchers used a golf buggy rigged to appear as if no one was inside. A pair of large, swiveling eyes on the front were controlled by researchers, but in the future could be controlled by the car's AI on an actual self-driving vehicle.
Ultimately the aim is to keep everyone as safe as possible, if and when autonomous driving becomes the norm. At the moment, it seems that's a long way off yet – giving scientists more time to look at the resulting implications.